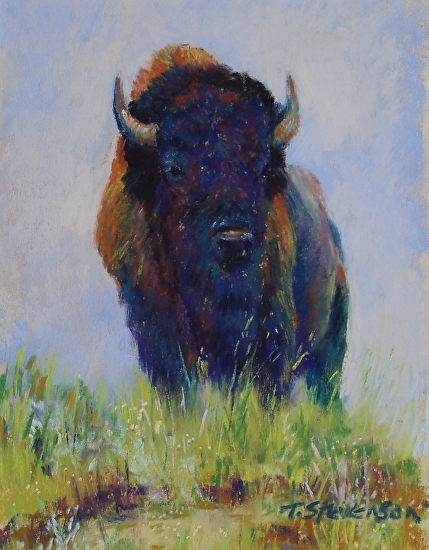 "Bison Overlook"
9 x 6" Pastel © Trish Stevenson
Original pastel painting inspired by the bison herd of Theodore Roosevelt National Park in the beautiful badlands of western North Dakota.
I love to draw and paint and always have. I live in the West and am surrounded by big skies, vast prairies, rivers and the beautiful badlands of eastern Montana and western North Dakota, an area that Lewis and Clark explored and described in their journals. My subject matter is definitely inspired by this environment and the hard-working people I know and encounter. 
On this website you will find ranch horse paintings, wild horse paintings, rural landscapes and paintings of cowboys, cowgirls, rodeo and buffalo, to name a few. I also accept commissions for portraits, equine sports portraits or anything special you might have in mind. Please don't hesitate to call or email me!